Welcome to w5nac.com, web home of the Nacogdoches Amateur Radio Club, W5NAC!
Here you will find information on how to become a HAM Radio operator, how to use your radio, and how to get involved here in the Nacogdoches area. We have monthly meetings and weekly nets. Please feel free to browse the site and ask any questions!
At the July 2019 Monthly Meeting and Ice Cream Social, KE5EXX reviewed our Field Day 2019 effort. Here is the slideshow.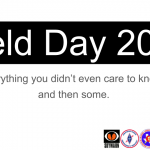 Recent News:
For all the news posted to this site, click on the NEWS menu item at the top of the page.