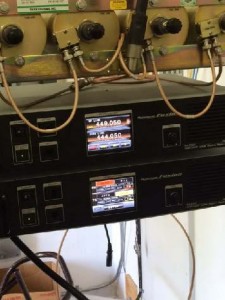 The club recently acquired two new Yaesu DR-1X repeaters, funded by NCEC, to replace the existing equipment at the City Communications site on Powers Street. This includes the 146.840 VHF repeater and the 440.050 UHF repeater.
The Yaesu DR-1X is a very versatile synthesized radio, able to operate on either 2M or 70CM, and is digital capable. We have both repeaters currently configured to accept either analog (FM) or digital input, and to transmit analog FM. Digital input is automatically converted to analog. As both repeaters are identical, this also provides backup if one unit should fail. The repeater controller logic is built into the radio so an external controller is not required.
As those using the new repeaters have already noticed, there is no courtesy tone, nor is there voice ID. All identification is in CW.
The installation of the new equipment was made April 22. 2015 with a number of club members participating. Many thanks to Rusty KD5GEN, Tom W5TV, Mike KF5KEY, Robert KC4LUY, and special thanks to Tim KE5PQJ who brought with him a couple of strong young guys from Commercial Bank who took care of the heavy lifting.
This information appears in the May 2015 edition of the Nacogdoches Amateur Radio Club Newsletter. View the entire newsletter here.